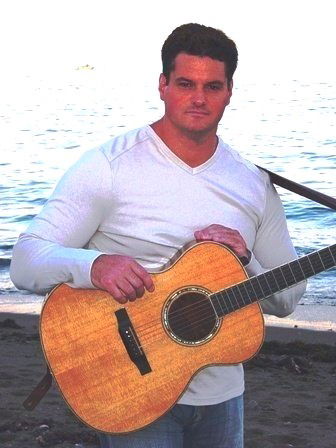 -Jon Frattasio has been performing music professionally for over 30 years and at times, playing over 300 dates a year.-The Cape Cod times once wrote of Jon Frattasio being, "one of the hardest working troubadour's on Cape Cod, Boston, and the South Shore, playing his large variety of souped up folk music."
-An accomplished acoustic guitarist, writer and singer, Jon also draws from a diverse 3000 plus cover song catalogue, performing all occasions and venues from; bars, saloons and theaters to large and small private events and more. A highlighted memory was when,
Amy Lee
, long-time sax player for Jimmy Buffett and Charles Neville to name a few, did a summer tour performing with Jon in small venues around New England, Amy remarks-
" Jon is a gentleman but very much handles himself well out there in the variety of venues we performed. Jon's a total pro, possessing a unique and as pleasant a finger style guitar sound as I've ever heard."
Jon also highlights the many performances and shows he's produced and performed with Jimmy Buffett Coral Reefers'- Jim Mayer, Peter Mayer and Pete's son, Brendan Mayer, all world-class musicians, Buffett's no fool.-Jon's 30 plus year music career has allowed him to perform all over Boston, Cape Cod and New England, also 14 years in Key West Florida. Jon's also performed in Las Vegas, Nashville, California, Martha's Vineyard and Nantucket... Who has hired Jon over these years you may ask? In Boston- Cheers, Barking Crab, the Abbey in Southie, the Back Bay Restaurant Group venues, BBC's on the South Shore and Cape Cod, Mamma Mia's on the South Shore, Stevie G's breakfast gig in Rockland MA, Margaritaville Cafe' in Key West , Smokin' Tuna Saloon in Key West, Norwell Company Theater, East Bay Grill in Plymouth, New Seabury Resort on Cape Cod, Sassconnesset Golf Club on Cape Cod, Falmouth Golf Club, the Courtyard in Pocasset (Cape Cod), the Quarter Deck in Falmouth (Cape Cod), just to name a few. Jon also performs at several Senior Living facilities, always a highlight and special gig for Jon... Inquire below about hiring Jon to perform at your next event or occasion. "There's never been a time that music didn't make better." -John Prine/Mac McAnally-CONTACT JON FRATTASIO:Facebook message Jon- https://www.facebook.com/jon.frattasio/Email message Jon- j.frattasio@comcast.net